Hiking & Walking
Sooke offers various hiking trails for all mobility and skill levels, from the easily accessible and flat Galloping Goose Trail or Whiffin Spit, to the serious multi-day Juan de Fuca Trail.
Cycling & Mountain Biking
Sooke also offers various cycling trails for all skill levels, from the flat, family-friendly Galloping Goose Trail to the rugged trails around Matheson Lake. Note: The Galloping Goose Trail does not actually come into the town core.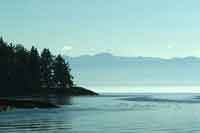 Fishing, Sailing, Whale Watching and Marine Adventures
The Sooke area is world famous for its marine ecology. Nestled in protective waters it is a diving wonderland, and sports fishers come to enjoy the natural beauty of the Strait of Juan de Fuca.
Crabbing at Government Wharf
The wharf is at the foot of Maple Rd, just past the streetlight where Sooke Road turns into West Coast Road. Many people fish and crab from the wharf. Boat moorage can also be obtained.
SEAPARC Pool & Arena
Sooke Electoral Area Parks And Recreation Commission (SEAPARC) is actively involved providing recreational and leisure opportunities within the community, with a combined pool and arena leisure complex.
2168 Phillips Road
Official SEAPARC Website
Sooke SK8 Park
An unsupervised youth park for skateboarding, biking and rollerblading, the Sooke Skate Park is located adjacent to Journey Middle School.
Throup Road
Sooke Baseball Park
There are two ball diamonds on Throup Road, just across the street from Journey Middle School and the Sooke SK8 Park.
Pickleball & Tennis Courts
Sooke's pickleball and tennis courts, free for public use, are located on Throup Road near the baseball fields. Pickleball is trending all over North America and is very popular in Sooke. The Sooke Pickleball Group upgraded the Sooke Community Association's tennis courts in 2018. Seniors especially love pickleball, as it is easy to learn, affordable and low impact. The Sooke Pickleball Group offers free weekly lessons in the spring and summer.
Throup Road
Facebook Group »
Logging Sports
The art of logging sports is alive and well in Sooke, BC. When the Sooke Community Association announced that the famous All Sooke Day Logging Sports event would not be held anymore, there was an outcry from the community.
Events in Sooke: Canada Day July 1. -->More info
Bird Watching
Many of Sooke's parks are a haven for bird watchers, with Bald Headed eagles, swans, geese, ducks and many varieties of smaller birds in abundance.
---